Ventspils
IT challenge
Participating team statistics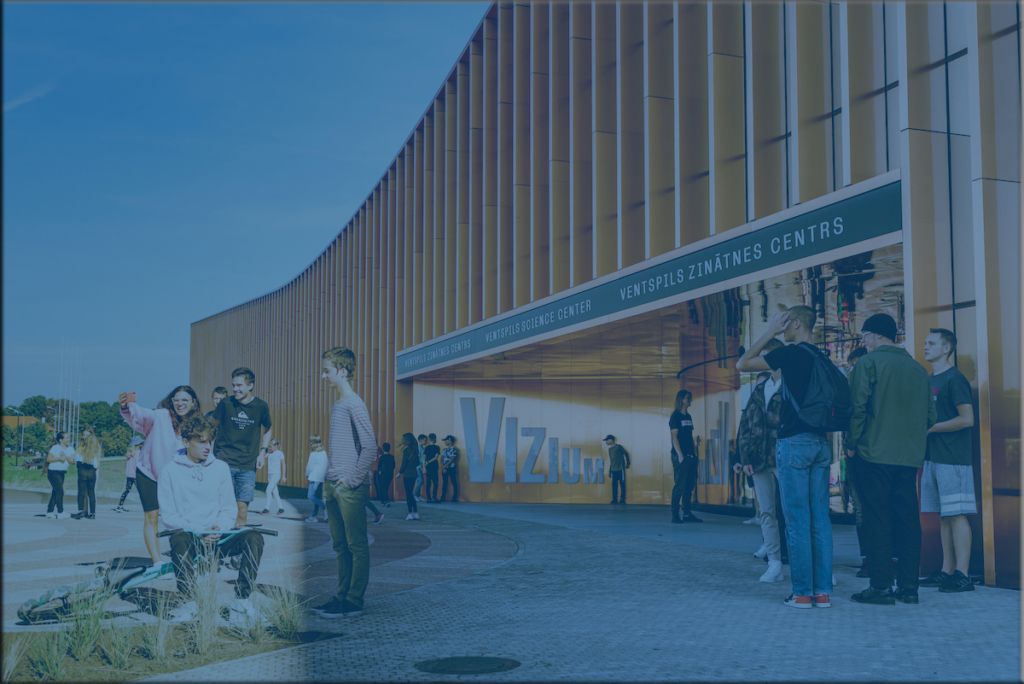 Home of
Competition this year:VIZIUM
In June this year, a new science centre – VIZIUM – was opened in Ventspils. In the final, participants will have the opportunity to explore the science centre, which will be the main location. Participants will have the opportunity to explore VIZIUM's exhibits, perform tasks in VIZIUM's homely premises, and winners will be announced at a special award ceremony at VIZIUM.
More than 80 interactive exhibits, science shows, laboratories, conference rooms, classrooms and technical workshops are available to visitors on a daily basis, introducing them to physics, chemistry and other natural sciences.
Registration for Ventspils IT Challange 2022 starts in:
Whats new
?
The finalists of the "Ventspils IT Challenge 2022" have been selected!
The jury of the "Ventspils IT Challenge 2022" competition has completed the evaluation of the first round submissions and selected the 46 teams that will take part in the final and adventure-filled event in Ventspils as well as compete for a prize fund of nearly EUR 13 000. There will be 36 teams from Latvia, 5 from Lithuania and 5 from Estonia in the final. "Ventspils IT Challenge 2022 finalists (listed in mixed order): Group A (Grade 1-3): "Melnā pantēra"…
Ventspils IT Challenge Round 1 applications closed
Wow, this was a dynamic and intense Round 1! Round 1 of the Ventspils IT Challenge 2022 is now closed and the jury has its work to evaluate all the…
Don't miss your chance to take part in an educational adventure – registration for the "Ventspils IT Challenge" competition will close soon
The competition "Ventspils IT Challenge" is at full speed and there is still enough time left to apply for the competition and complete the first round task – an experiment…
Online infomation events
Join the online information events with the challenge organizers! This year, participants also have the opportunity to take part in online events and meet the task creators. This is a…
"Ventspils IT Challenge 2022" Experiments and Invites to VIZIUM
On thursday, 29 September, starts the seventh "Ventspils IT Challenge 2022" competition, which has become a good tradition and awaited event in autumn for students. And no wonder why – the…
Frequently asked questions
When IT challenge 2022 starts?

First round starts on 29th September and organizers are waiting filled tasks till 13th November.

How can I participate?

You need to find two team mates and teacher or other supervisor and register till 13th November in ventspilsitc.com.

How old I have to be to participate?

In contest all Latvian students from first to twelfth class can participate. Students from Estonia, Lithuania have to be at least in class four to paticipate. Students from recreational schools have to be less than 19 years old.

What can I get if I participate?

Best team in group A will get 800 Eur

Best team in group B will get 1000 Eur

Best team in group C will get 1000 Eur

Best team in group D will get 1600 Eur
Contacts
Municipal authority "Ventspils Digital centre"
Ventspils pilsētas pašvaldības iestāde
"Ventspils Digitālais centrs"
Reģ. Nr.: 90001517332
Adrese: Akmeņu iela 3, Ventspils, LV 3601
Contact Information
Raitis Roze
itc@ventspils.lv
Mob. +37128458018